Warwick Castle, July 28th 2002




Warwick wasn't planned... and maybe that's one of the reasons why it was so great! :)
It was a sunny glorious summer day and London was boiling hot... and Warwick was just "a few" miles away, so we just *had* to go :).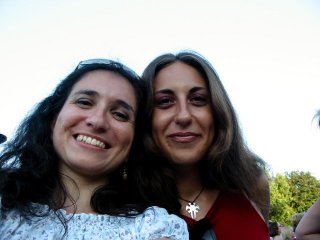 Thelma & Louise on the road again! :)

The castle was really beautiful... and amazingly BIG. It's one of biggest venues I've ever seen - it took us ages just to find the right entrance! - and the queue was, surely, the longest we had ever seen in many years of BAd gigs!
The gig was to take place on the castle's grounds, inside a beautiful park. To get to the venue we crossed a little wood and met peacocks going around freely... it was like a beautiful fairy-tale setting.
I don't know how many people were there... but surely it was a big number indeed! What a sight! We headed to the b-stage... and quite luckily got a lovely spot by the barrier (still wondering how that happened :)).

Vega4 took the stage not long after we arrived... the singer looks cuter every time I see him :)) and gets crazier, as well!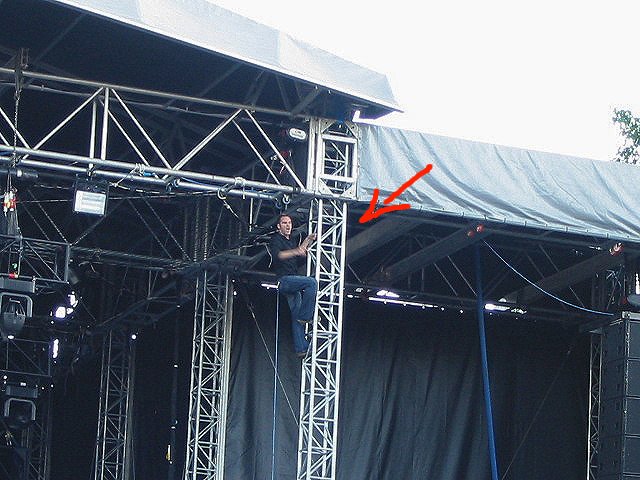 There he goes, we knew it was going to happen... climbing up the scaffoldings once again! Uhm... ok, if you really have to...!
We expected Delirious? after that, but no... Bryan's crew appeared on stage! Thank you!!!!!!!! Sorry to any Delirious? fan, but... two gigs were good enough :). So the sun was setting behind us and Bryan appeared on stage...

Now, I have to say that this was quite an emotional gig... not only for us, but for the guys too... At some point, Bryan seemed overwhelmed by the cheers and by the sight of such a wonderful audience. We were too. What a crowd! Maybe it's because we weren't first row and we could see it, but it was really impressive.
He just stood there for a few moments with a sweet smile and a loving look in his eyes :). He also had a bit of a cold and his voice sounded a bit rougher than usual, but this didn't spoil the gig at all... on the contrary, he sounded even sexier ;).
The gig was good and rocking and the audience seemed to know every song word by word! A webboarder got on stage for When You're Gone, well done Mandy!, and her enthusiasm added to that of the rest of us. Then came EID... and then my favourite, and I really didn't expect it at all... Straight From The Heart! Knocked me out! Thank you Bryan... I love it soooo much!
The show went on as we were dancing and having loads of fun with everyone else... then it was the time for the B-STAGE!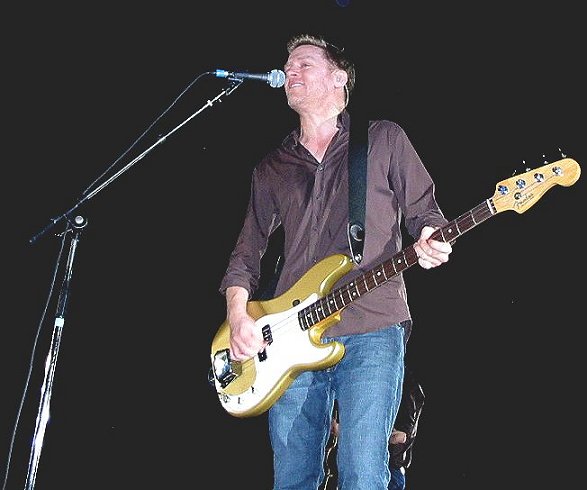 Like at Wembley, it was fantastic! You can't avoid eye-contact with the guys even if you try over there... you're suddendly almost on stage with them! It's such a great idea and I hope they'll keep it for much longer now that it's back!


The Elvis song is soooo sexy and the way the guys dance to it is so funny!! Same goes for Poison Ivy, sang by all the 3 of them in turns - Mickey included! Bryan and Keith do their best "shakes" and they're actually really good at it :))! Mickey made many funny faces at us, what a guy!

Continues...>>>


---
View My Guestbook
Sign My Guestbook