Rankweil - Austria
July 14th, 2000



And then... during Cuts Like A Knife, Toe appeared in front of us and told us to come on stage with him :). That was just breathtaking. In a couple of minutes, we found ourselves on the stage, beside the guitars and the sound guy, just a couple of meters from Keith. I'll never forget how excited we were!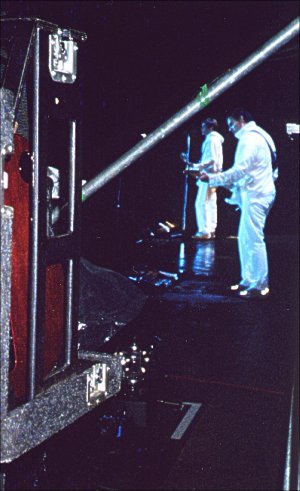 I don't know what I was doing or thinking right then... I was in total shock 8-). (And by the way, I was also *freezing*!) I tried to take a pic, which isn't good, but maybe it will give you an idea of our point of view up there.

The audience was an endless sea of umbrellas in front of us... it was just amazing and I couldn't believe my eyes.
Everyone was so nice and kind to us up there. Bryan really has a fantastic crew. Thanks SO much guys!!!






Backstage!!! >>>