Rankweil - Austria
July 14th, 2000
Rankweil welcomed us with a grey sky, lots of BA posters on the walls and ... desert roads. The venue had been changed but we didn't know about it!
Luckily, after some panic, we phoned Frances and found out the new location (thank you Frances :)).
Once there we met all the other fans... it was nice to wait all together in the line, except for the fact that it soon started to rain... (and we didn't know it yet, but it wasn't going to stop!).
At 6pm the gates opened and we rushed to the stage... it was kinda hard because the grass was wet and everyone was slipping on it! Luckily nobody got hurt and we all reached our lovely spot in the 1st row :). Like in Cardiff last summer, I realized that the 1st row was full of fellow fans I knew :).
The support act, a German band I could never spell properly, was funny... altough we had no clues of what they said :). Status Quo really rocked the place, and warmed us up under the pouring rain.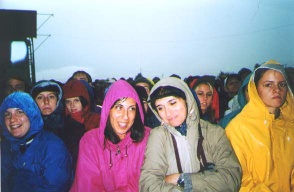 I had never been so wet before... I was literally drowning! But once we were completely wet we just forgot about it and had so much fun :)!
I wish this pic was never taken... we look so miserable :))! But since it was taken and it's one of the few I got... here it goes. I made it smaller so that you won't be scared off :).




Bryan comes on stage!!! >>>